We detail here a high level flow of the Aldus Video KYC solution. Broadly, Video KYC calls can be initiated by the Agent or by the Customer depending on specific Client needs. The flow here describes a Video KYC call initiated by the Agent.
Read the full Video KYC FAQ to get a broader understating of V-CIP process >
A typical Video KYC call process is described here.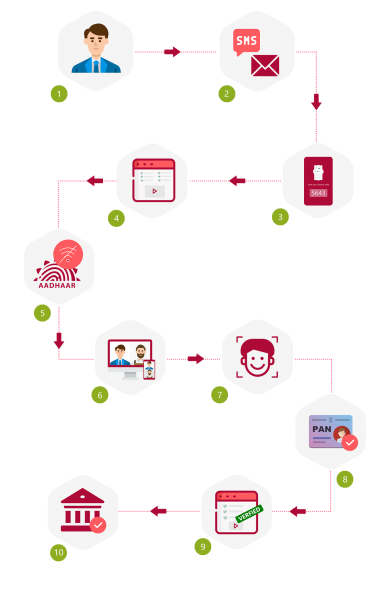 Agents can login to the Aldus Video KYC dashboard to trigger an SMS/Email to the customer (entering the customer mobile number, email and customer reference ID as input) – This can also be achieved using the Aldus APIs.
Customer clicks the link – An entry is now automatically made in the Aldus Video KYC Dashboard to indicate that the customer has initiated the process.
Customer completes Aadhaar Offline – This will now be available in the Aldus Video KYC Dashboard during the Video call for the Agent to refer to and confirm details with the customers.
Customer starts video call with Agent – a call to action is triggered to an available Agent logged into Aldus Video KYC If the Agent is not available to take the call, the system keeps attempting for 90 seconds and then passes a message that "No Agents are available to take the call at the moment".
Once the call is connected, Agent walks the customer through with the KYC verification – Face capture, PAN capture, random questions and other verifications can be done by the Agent. Agent completes the necessary steps as per your need and ends the Video call. Note that a number of APIs are triggered in the background to complete the verifications such as OCR of PAN, PAN verification against NSDL, Face match between Aadhaar and Photo. All of the verified details will be available in the Aldus Video KYC
Agent/Manager can now review the Video call (maker checker process) to Accept or Reject the call. For each of the decisions made, the status will be updated in the Aldus Video KYC Dashboard for the record.
Once the Video verification is completed, the next steps of provisioning the account will follow from the backend/CRM/Core systems.
Note that the Client can now persist all of the data returned by the Video KYC process in any of the internal databases or document management systems for other downstream systems to access the details captured in the video call including the live video chat and associated artefacts captured during the video kyc call.
Learn more about Aldus Video KYC >
Talk to an expert about deploying Video KYC in your Organisation >
About: FRSLABS is an award-winning research and development company focussed on identity verification and fraud prevention solutions for businesses. We are building the next generation video KYC, OCR, face verification, identity verification and IRSF fraud prevention solutions to benefit a billion people.