What is Aadhaar masking?
As per UIDAI, masking refers to covering the first eight digits of Aadhaar number – in physical or digital form. More precisely, masking refers to concealing the first 8 digits of the Aadhaar Number in your Application and the Aadhaar Card Image (captured as POI or POA).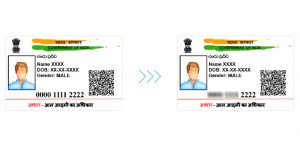 Do I have to mask my historical Aadhaar Card images?
Yes. UIDAI has mandated that by default only the last four digits can be displayed/stored by service providers collecting Aadhaar. Therefore, if you have collected Aadhaar images as POI or POA, it must be masked to be in compliance with Aadhaar regulations (ref: Compendium_Feb_2019_11032019).
What formats do you support for masking?
We support all formats – PDF, JPEG, PNG, TIFF, BMP and so on. We also support single or multiple Aadhaar cards in the same page (e.g. front and back of Aadhaar in the same page). We support masking the small Aadhaar cards or the long form Aadhaar cards. Also, we support pictures and photocopies. We have demonstrated high accuracy with respect to masking.
How is this priced?
You can pay a small fee per page of masking which varies depending on volumes (SaaS); or a one-time fixed fee based on volumes for masking historical records (SaaS); or an annual license for unlimited current and ongoing needs (On-Premises).
How do I get started?
If you have the need, please write to us at info@frslabs.com. We would be happy to demonstrate the solution and work with you to create an ideal model for implementation.
About FRSLABS: We are an award-winning research and development company creating digital identity and fraud prevention solutions for consumers and businesses. Did you know, we are the creators of the ground-breaking digital KYC App KYZO? It allows citizens to securely share their KYC through a simple QR scan. Experience KYZO from Google Play Store. Coming soon for iOS.