What is Aadhaar masking?
As per UIDAI, masking refers to covering the first eight digits of Aadhaar number – in physical or digital form. More precisely, masking refers to concealing the first 8 digits of the Aadhaar Number in your Application and the Aadhaar Card Image (captured as POI or POA).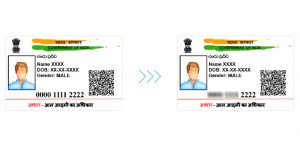 Did you know that we have masked over 20 million Aadhaar images? And have one of the highest industry accuracy for masking a variety of Aadhaar images and Aadhaar formats.
Do I have to mask my historical Aadhaar Card images?
Yes. UIDAI has mandated that by default only the last four digits can be displayed/stored by service providers collecting Aadhaar. Therefore, if you have collected Aadhaar images as POI or POA, it must be masked to be in compliance with Aadhaar regulations (ref: Compendium_Feb_2019_11032019).
What formats do you support for masking?
We support all formats – PDF, JPEG, PNG, TIFF, BMP and so on. We also support single or multiple Aadhaar cards in the same page (e.g. front and back of Aadhaar in the same page). We support masking the small Aadhaar cards or the long form Aadhaar cards. Also, we support pictures and photocopies. We have demonstrated high accuracy with respect to masking.
How is this priced?
You can pay a small fee per page of masking which varies depending on volumes (SaaS); or a one-time fixed fee based on volumes for masking historical records; or an annual license for unlimited usage (On-Premises). Please talk to us once so we can get to know you better before we share the Aadhaar Masking pricing and provide you with free access to try our Aadhaar masking services.
How do I get started?
Please drop us a note. We would be happy to demonstrate the solution and work with you to create an ideal model for implementation.
---
About
We are your friends at frslabs
FRSLABS is an award-winning research and development company specialising in identity verification and fraud prevention solutions for businesses. We are building the next generation video KYC, OCR, face verification, identity verification and IRSF fraud prevention solutions to benefit a billion people.
Built for you, not for investors
We do what is right for you (and only you) at scale. Nothing is off-limits for us when it comes to innovation, a culture best reflected in the array of patents we have filed. We want to be your trusted partner, to build the solutions you need, and to succeed when you succeed.
Priced for success
We are driven by our mission to touch a billion lives with our tools and not beholden by venture capital or mindless competition. We therefore have the freedom to do the right thing, and price our products sensibly, keeping your success and our staff in mind.
Supported by humans
Whatever it takes, we are here to help you succeed with our products and services. For a start, you get to talk to a human for help, not bots, to figure things out one-to-one. Whatever your needs, however trivial or complex it may seem, we have you covered.
**