In the most recent CFCA fraud loss survey, International Revenue Share Fraud (IRSF) has yet again emerged as the top 5 fraud loss type globally. However, compared to the results in 2011, IRSF fraud has occupied the top spot and is also the top fraud threat emerging globally, suggesting that the threat of IRSF is real and cannot be ignored.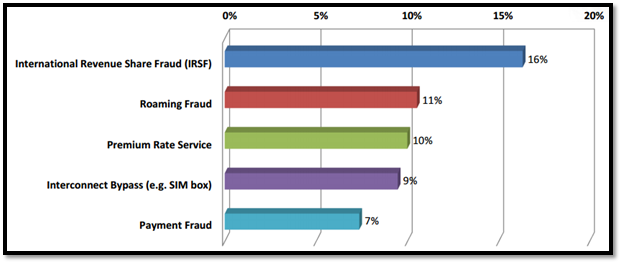 Source: CFCA Global Fraud Loss Survey 2013.
While the total communications fraud loss is estimated to be $46.3 billion annually – a 15% increase from 2011, IRSF fraud loss is estimated to be $1.8 billion.
So what should operators do to combat IRSF fraud? Bolstering the Fraud Management System with additional rules is perhaps the strategy that most operators would consider. But with what remains the question? Additional rules, thresholds and disallowing calls to and from high risk destinations may not help because there are over 220 countries from which IRSF can originate.
–
FRS Labs in collaboration with Yates Fraud Consulting has developed PRISM – a one of a kind solution to tackle IRSF fraud. And suffice to say it's the first of its kind.
–
In most IRSF incidents, fraudsters will first call an IPR Test Number to confirm that the destination country and number range can be reached from their calling location and from the device they are using to originate the calls. PRISM has a collection of over 70,000 Test Numbers, updated every 4 weeks, which can be used as a hot list in an opeartor's existing fraud management system. A hotlist alert from a PRISM number called will initiate an investigation and identify a pending IRSF attack, or provide confirmation that one has started.
PRISM is a cloud based subscription service, set up in just a few minutes with no software to download or install by the subscriber. The subscription is also provided at an extremely low cost to encourage as many operators as possible to use the services to combat IRSF fraud. Talk to us today and beat IRSF fraud before it takes a bite out of your revenues.